Perfect chemistry leads to matching PhDs
They fell in love, crossed the ocean from Iran together and now Sam and Roya Rudd have received their PhDs side-by-side.
The couple are two of more than 1700 students, including 53 PhDs, who graduated from UniSA in September.
Sam remembers seeing Roya for the first time, nine years ago, in their first chemical engineering tutorial. Puns involving chemistry aside, Sam says it was "love at first sight".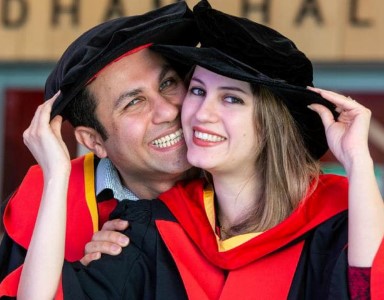 Following their undergraduate degrees in Iran, the couple started to look further afield for a country to help both of them achieve their dreams, moving to Australia in 2011.
"We are honored to be Australian citizens,'' Sam said.
"Since Australia Day 2016 we have considered this beautiful country as our new home and now we are working hard to be a good representative of Australia in the world's scientific communities."
For Sam, that means continuing his work with conductive polymer sensors that can tell farmers when best to water, fertilize and harvest their crops while preventing excess run-off that can pollute drinking water.
For Roya, it means pursuing her work developing a "Harry Potter invisibility cloak" for defense using atomic-sized particles to confuse thermal sensors.
"When you make a particle equal to the size of an atom, then magic happens,'' she said.
Both see their futures in Adelaide. "We love Australia, it's our home. "It provided us with the opportunities to chase our dreams," Roya said.