New device promises affordable cell therapy for life-threatening diseases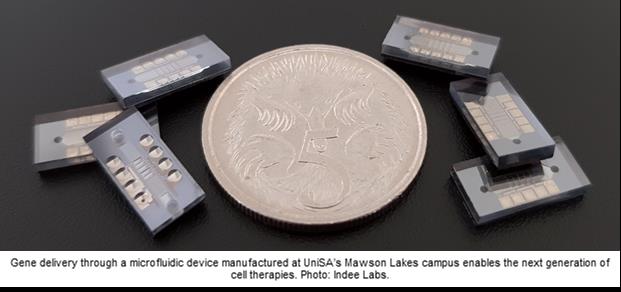 A start-up company is using the world-class manufacturing facilities at UniSA's Future Industries Institute at Mawson Lakes to develop technology to deliver efficient gene-modified cell therapy that will be both affordable and accessible for people who require treatment for life-threatening diseases.
Indee Labs are currently using the Australian National Fabrication Facility-SA Node's world-class clean rooms, state-of-the-art equipment and the technical team at Future Industries Institute to manufacture a microfluidic device, which they say will be a game-changer in gene-modified cell therapy.
US-based company Indee Labs, which began in Australia and undertakes key aspects of its work here, plans to make gene-modified cell therapy accessible to the masses by solving manufacturing issues responsible for their high price tags. It also aims to reduce the lead times for a treatment from months to weeks, saving the lives of patients with aggressive conditions.
The microfluidic device allows for precise cell processing; using fluid dynamics to gently disrupt the cell's membrane, new genes can enter and, as the membrane heals, it encases new genetic information which modifies or engineers the cell to attack a specified disease.
The chief executive officer of Indee Lab's Australian division, Dr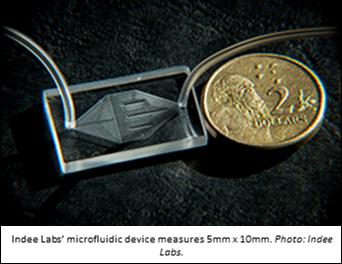 Warren McKenzie, says the first generation of gene therapies will cost about the same as a house in Sydney or Melbourne because the manufacturing process, which typically use engineered viruses, is slow, difficult and problematic.
"This will see some very difficult decisions made by families, health insurers and governments about who will get access to these life-saving cures," Dr McKenzie says.
"Our technology will solve many of the problems with using viruses, bringing down their price and allowing pharmaceutical companies to manufacture enough therapeutics for everyone that needs them while also expediting development timelines."
Future Industries Institute (FII) Director Professor Emily Hilder says the work being done with Indee Labs supports FII's drive to increase UniSA's internationally competitive research capacity.
"This is a great example of how our world-class facilities and staff at UniSA are having international impact, core to the Future Industries Institute mission to transform the industries of today and to create the industries of the future," she says.
UniSA Associate Research Professor Craig Priest, who is the director of the Australian National Fabrication Facility-SA Node, says it's an exciting project to be involved in.
"Indee has a can-do attitude and UniSA loves to work with industry,"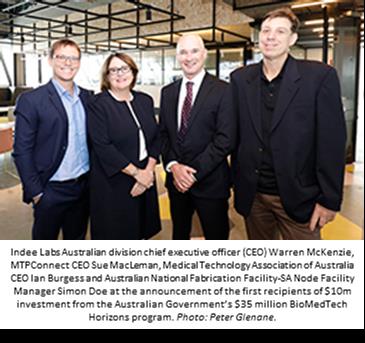 Associate Prof Priest says.
"Having ANFF-SA's facilities at our fingertips is an amazing catalyst for new ideas and technology.
"New medical devices will require the very best of manufacturing science. This means a unique combination of equipment and people, which is what ANFF brings to companies like Indee."
Indee Labs founder and Chief Executive Officer, Ryan Pawell says UniSA's micro and nanofabrication facility could be the only place in the world that can fabricate devices with the speed and quality required by an accelerating start up.
"The ANFFSA's world-class capabilities and their flexibility to partner up with innovative like-minded organisations results in improved development timelines and technical capabilities," Pawell says.
In April, Indee Labs was awarded almost $1 million in funding from the Australian Government's BioMed Tech Horizons program to develop its gene modified cell therapy. The company will develop a product based on the mechanical phenomenon of microfluidic vortex shedding (µVS) into an end product that will be trialled by pharmaceutical companies worldwide. The project also involves the Defence Science Technologies Group and the University of Sydney.
UniSA's manufacturing facility, ANFF-SA, provides world-class technical capabilities which are critical to Indee Labs' advancements in gene therapy delivery.