Gut-on-a-chip tech to boost risk management of Australian drinking water
Australia's drinking water is heading under the microscope through a major project led by Murdoch University in collaboration with the Future Industries Institute.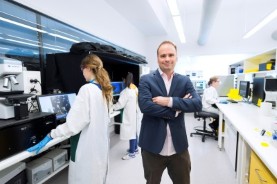 Dr Mark O'Dea from Murdoch University, Dr Paul Monis and Dr Brendon King from SA Water, Professor Benjamin Thierry from the Future Industries Institute and Associate Professor Jillian Carr at Flinders University are key collaborators on the project.
This innovative research team will lead the development of a fast, reliable test, enabled by their gut-on-a-chip technology, for three major pathogens found in untreated Australian water supplies – cryptosporidium, adenovirus and norovirus.
These three pathogens are among the major causes of gastroenteritis in Australia, which is estimated to cost more than AUD$1 billion annually. Cryptosporidium, norovirus and adenovirus represent the main public health concern for drinking water in developed nations. However to date, risk assessment in Australia has been limited by the lack of reliable detection and viability assays for these pathogens. Working with SA Water, Seqwater, WaterNSW and Melbourne Water, the team will investigate the potential for the gut-on-a-chip technology to facilitate improved risk assessment.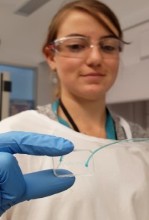 They have developed a miniaturised computer-controlled gut-on-a-chip, which provides a continuous flow of nutrients and oxygen at a constant concentration precisely determined by a computer, creating a miniature 3D gut-like environment. One of the major obstacles in developing a vaccine or improving treatment for cryptosporidium was the lack of commercial supplies of the pathogen for research.
For the first time, the gut-on-a-chip will generate a commercial supply of oocysts (eggs) for Cryptosporidium hominis, which is the main species that infects humans.
The gut-on-a-chip only needs a drop of fluid to test, so they will be able to run multiple chips simultaneously to find the best conditions for culturing these pathogens in the laboratory.