The Future Industries Institute and France join forces to advance Industry of the Future
UniSA has been involved in the creation of a new co-Chair Professorship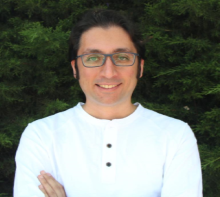 known as the Brittany Region/UniSA Professor of Industry of the Future - a joint academic appointment between UniSA and French academic partners, funded by UniSA and the Brittany Region.
With French-Australian collaboration important to a broad range of industries, including maritime defence, the new Professor of Future Industry will spend half their year in Brittany with UniSA academic partners IMT Atlantique and the University of South Brittany and the other half in Adelaide, fostering staff and student exchange and driving innovation interchange between industry and academia in both countries.
Representing the Future Industries Institute in this collaboration is Associate Professor Craig Priest and Dr Moein Kashani (pictured). They will investigate multiphase microfluidics using our world-class fabrication facility (ANFF-SA).
In 2019, Dr Kashani will travel to Brittany to participate in a program of staff exchanges and research collaborations between UniSA and Institute de Recherche Dupuy de Lôme at the University of South Brittany.
We will update you with more in 2019.