Professor Emily Hilder is made a Fellow of the Australian Academy of Technology and Engineering
Professor Emily Hilder was recently made a Fellow of the Australian Academy of Technology and Engineering.
A pioneer of disruptive approaches to chromatography, microsampling, blood analysis, explosives detection and biopharmaceutical analysis, Professor Hilder's technological advances have been adopted commercially around the globe, including for the determination of contaminants in heparin, used by the United States Food and Drug Administration.
Professor Hilder has worked closely with industry and end-users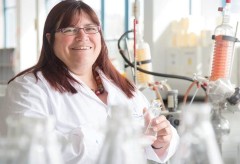 throughout her career including SMEs and large multinational companies such as Trajan Scientific and Medical, Thermo Fisher Scientific, Agilent Technologies and Pfizer.
Professor Hilder was the inaugural Director of the ARC Training Centre for Portable Analytical Separation Technologies (ASTech) and is currently Deputy Director of the ARC Research Hub for Integrated Device for End-user Analysis at Low-levels (IDEAL).
These initiatives focus on fostering collaborative research, bringing university researchers and industry together to share their skills and expertise to solve problems. It also allows the development of new products, processes and services that will transform Australian industries and train the next generation of industry-ready research scientists.
Professor Hilder also leads the Future Industries Accelerator (FIA), a $7.5 million investment from the Government of South Australia that supports industry, especially SMEs to engage with researchers across UniSA.
Through access to research infrastructure, support for R&D projects and a mobility program for staff secondments, FIA has supported over 100 companies across over 85 projects, creating at least 40 jobs in South Australia since 2016.
Professor Hilder joins other experts from around Australia as new Fellows of the Academy. They will be welcomed at its upcoming annual meeting in Melbourne.
World Champions of the F1
Crowned 2018 World Champions of the F1 in Schools World Finals, Team Horizon from Brighton Secondary School in Adelaide also took out awards for Fastest Car and Best Engineered Car at the 2018 F1 in Schools World Championship held in Singapore.
Team Horizon is the epitome of collaboration. These inspiring and passionate students have worked closely with industry and technical experts here at ANFF-SA and the Future Industries Institute to help perfect their design and performance.
Team Horizon were true champions locally and now globally. Outstanding work Mark Cherrill, Finn Galindo and all involved!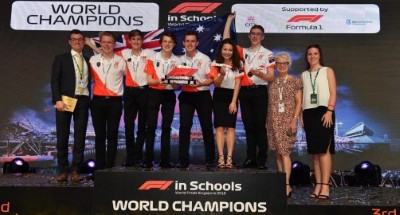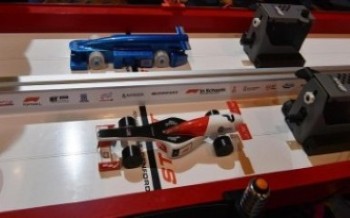 UniSA women blitz the Winnovation Awards
University of South Australia researchers dominated the 2018 Women in Innovation Awards, taking out six of the 10 categories in an outstanding result for the University.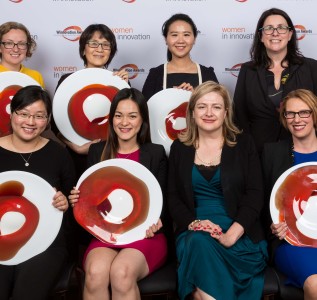 In a night described as "extraordinary" by Deputy Vice-Chancellor: Research and Innovation, Professor Tanya Monro, the quality of research and innovation among UniSA's female academics was rewarded with Dr Chia-Chi Chien representing the Future Industries Institute, winning the Science sector for her innovative, microfluidic 3D tumour-on-a-chip research.
Leading FII researchers, Associate Professor Nikki Stanford and Dr Marnie Winter were also finalists on the night.
The Future Industries Institute is committed to the SAGE (Science in Australia Gender Equity) Athena SWAN Charter to promote gender equity and diversity in STEM, supporting the aspirations of our talented women.
UniSA Research Day and Awards
UniSA hosted the inaugural University-wide Research Day, which was a wonderful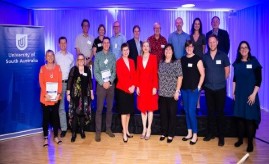 opportunity to recognise and celebrate the high-quality research conducted across the university.
During the day, workshops were conducted under the specific Research Themes to showcase research, inspire connections and strengthen interdisciplinary collaborations.
Winners and finalists of the inaugural Research Awards were announced after receiving a strong response of nominations across the categories of Research Excellence, Training and Support and Pathway to Impact, making this inaugural year a true success.
The Future Industries Institute was strongly represented as winners and nominated finalists.
Leadership in Research Award
Winner - Professor Emily Hilder
Professional Support - Individual Award
Nominee Finalist - Scott Abbott
Professional Support - Team Award
Winner - Australian National Fabrication Facility - SA Team
Simon Doe, Donghoon Chang, Jing-Hong (Mike) Pai, Mark Cherrill, Moein Kashani, Maryam Khaksar, Belinda Turner, Ragesh Nair.
Nominee Finalist - Technical Services Team - FII
Best RTIS Application Award
Winner - "Re-sensitising Resistant Bacteria Against Antibiotics: Giving New Power to Failing Medicines."
Clive Prestidge, Nicky Thomas, Allison Cowin, Zlatko Kopecki, David Ogunniyi (FII)
Commercialisation Award
Nominee Finalist - Benjamin Thierry
People's Choice Award - Images of Research
Winner - Moein Kashani - ANFF-SA
2018 Frater Award
Congratulations to Mark Cherrill - Microfabrication Technologist, ANFF-SA as the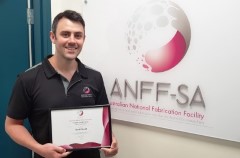 winner of the 2018 Frater Award.
The Frater Award is a professional development award given to ANFF staff for outstanding achievement. Named after ANFF's first chairman, Dr Robert Frater AO, the Award funds local or international travel aimed at fostering technical and professional growth.
Mark will attend one of the World's largest micro/nanomachining exhibitions to identify advances in technology, knowledge and processes that relate to ANFF-SA's micromachining capabilities and bring back new expertise in nanofabrication related areas that will benefit the ANFF user community.
Santos Tour Down Under 2019 – Challenge Tour Competition
Congratulations to Caroline Tiddy, winner of the Future Industries Institute Tour Down Under 2019 Challenge Tour Competition.
UniSA will have a team in the Challenge Tour – "Team UniSA".
Flying the banner for the Future Industries Institute is our very own Associate Professor Colin Hall as Team Captain.
The Challenge Tour is Santos Tour Down Under's (TDU) mass-participation ride. This is where riders tackle the same route as the pros just hours before they begin their ride!
In 2019, the Challenge Tour is on Saturday 19 January and riders have four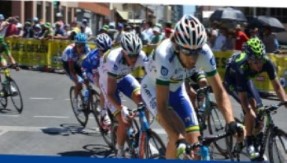 start locations and distances to choose from:
Glenelg to Strathalbyn 158 km
Myponga to Strathalbyn 102 km
Victor Harbor to Strathalbyn 60 km
Goolwa to Strathalbyn 34 km
Those riding with Team UniSA, will gain access to the UniSA marquee at the Challenge Tour finish line where they can grab some shade and refreshments, catch up with fellow riders and wait for the professionals to arrive.
Have a safe ride and good luck!!