UniSA leverages industry connections in $9.2m ARC projects
The University of South Australia will help chart the future of Australia's energy and manufacturing sectors as a key partner in two new national training centres announced by the Federal Government this week.
The Australian Research Council (ARC) has provided $9.2 million to establish centres in Surface Engineering for Advanced Materials ($4.8m), and Future Energy Storage Technologies ($4.4m).
In the first centre, UniSA researchers Dr Christiane Schulz, Associate Professor Colin Hall and Associate Professor Nikki Stanford from the Future Industries Institute (FII) will join forces with Swinburne University and RMIT to integrate hi-tech research into the manufacturing sector, benefiting industry and providing a central point for international collaborations.
Known as the ARC Training Centre in Surface Engineering for Advanced Materials (SEAM), the Swinburne-led centre will bring together researchers across all career stages and provide job pathways, creating a high-quality manufacturing workforce.
It will cover a spectrum of important research themes and applications, including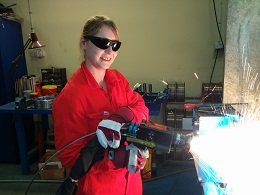 biomaterials, graphene layering, high temperature coatings, laser metal deposition for materials repair and Industry 4.0 manufacturing processes, ranging from thin films to thick coatings and additive layered materials.
Within the SEAM project, UniSA's principal partner will be Adelaide surface engineering company LaserBond, with opportunities for a post doc and two PhD students to work in the centre.
UniSA is also part of a new ARC Training Centre for Future Energy Storage Technologies (FEST), which will equip the next generation of researchers and the energy technology workforce with the skills needed to drive innovation, exploration and investigation.
The centre, led by Deakin University, will create advanced energy materials, batteries and battery-controlled systems to help small and medium-sized enterprises produce new technologies.
In the ARC-FEST Centre, UniSA FII researcher Associate Professor Drew Evans and a PhD student will partner with SA sensor technology company Sentek Pty Ltd to help further its remote sensing applications with a materials science focus.
"By harnessing the expertise of researchers and industry partners, both projects aim to deliver benefits for our economy, the community, and our environment," says Dr Christiane Schulz.