Helping academics and industry bridge the gap – UniSA FII and ANFF-SA
Feature article in Dec18/Jan19 AMT Magazine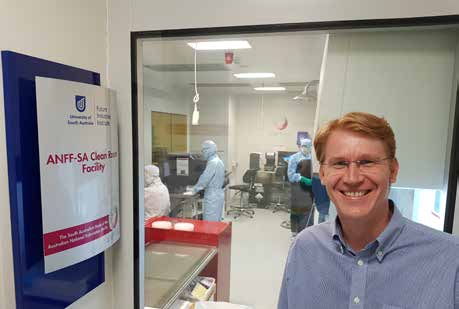 Complementing the University of South Australia's Future Industries Institute's research infrastructure, the South Australian node of the Australian National Fabrication Facility (ANFF-SA) specialises in microfluidics, lab-on-a-chip technology, advanced sensing, functional coatings and separation science.
Located at Mawson Lakes, ANFF-SA is a de-risking site for industry product development, helping to advance fundamental research along the Technology Readiness Levels (TRLs). Through the development of working prototypes, ANFF-SA is helping researchers to engage with industry in serious commercial discussions.
Attracting highly specialised work from around the globe, ANFF-SA have developed many products over the past few years including a microfluidic device offering gene-modified cell therapy, a non-invasive device to test urine for the presence of bladder cancer cells, a micro needle for an in-home blood-testing platform and a microfluidic chip for high-value mineral extraction.
Read more about the capabilities and expertise available at ANFF-SA by accessing the full article here: https://issuu.com/amtil/docs/1419_amt_decjan19_lr/88
For further information on ANFF-SA please visit: https://www.anff-sa.com/