2018 Ian Wark Research Medal
Cameron Ollson's original and creative approach into the interaction of arsenic, cadmium and lead have earned him the Ian Wark Research Medal.
The medal is awarded to the most outstanding Future Industries Institute graduate for research creativity and originality, contribution to knowledge and international publication.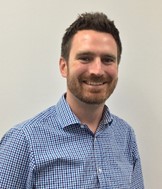 Supervisor Dr Albert Juhasz says Dr Ollson was an outstanding PhD student who designed an ambitious in vivo strategy to show that co-contaminants interacted with each other.
"Over the past two decades researchers have developed an advanced understanding of the individual relative bio-availability and bio-accessibility of commonly encountered inorganic compounds such as arsenic," Dr Juhasz says.
"But Cam's thesis branches away from traditional assessments and moves towards achieving a greater understanding of how inorganic compounds interact with each other and how different sequences also present themselves.
"Significantly, while in vitro assessment lacks sophistication to observe intercellular interactions, they may actually provide a way to conservatively predict in vivo contaminant relative bio-availability in various scenarios and situations which has application in the field.
"Cam's excellent comprehension of this multi-disciplinary research area enabled him to come up with the creative experimental approach and his research has contributed significantly to our knowledge of these contaminants."
Dr Ollson says he's honoured to receive the medal.
"Completing my PhD at UniSA under the supervision of Dr Juhasz and Dr Euan Smith was a fantastic experience," he says. "Ultimately the results have helped refine our understanding of how these co-contaminants interact in the gastro-intestinal tract which gives us a better insight into the potential risks to human health posed by contaminated sites."
While working on his PhD, Dr Ollson produced four publications in international peer-reviewed journals and six conference platform and poster presentations. He secured employment as a senior environmental scientist with Golder Associates in Perth even before submitting his thesis, which he completed within 3.5 years.